Bluehost Hosting Services Review 2023
Bluehost is part of a massive corporation, Endurance International Group, which owns various web hosting providers and has a colossal market share.
Visit Bluehost
Price
Starting at $2.95/month
Bluehost Review
All the blues of your website will vanish when Bluehost comes into the picture. It is a leading website hosting company, founded in 2003, with one aim- to fully harness the power of the web. It now helps over 2 million websites to thrive with its super convenient and affordable web hosting packages.
Based in Oren, Utah, Bluehost hosting is adamant about delivering the best quality web solutions to all its partners and customers worldwide. It's strong ties with WordPress of 10 years have made it an official WordPress.org recommended web host. With WordPress experts on their team, they promise to provide 24/7 customer service solving all web related queries.
Known for its dedication to quality, Bluehost now makes it to the top-rated web hosting companies.
THe company provides anything and everything web related, but is it the right choice for you? Let's find out in our Trusthost review!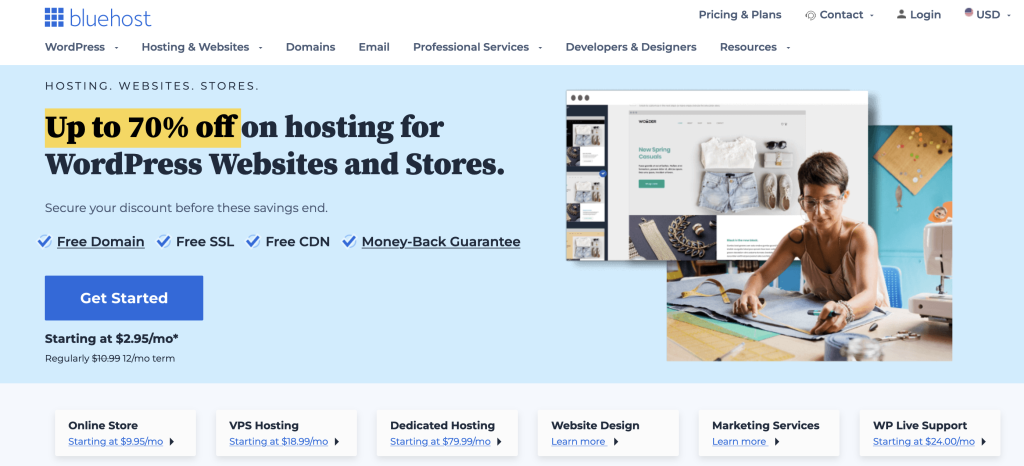 Features of Bluehost
If you are wondering, why choose Bluehost among all the others brand on the market?
Following are some of the functions and features that you must add to your bank of facts.
Cloud: Cloud hosting is a process of virtualization. With the integration of multiple cloud servers, it allows the website to switch to another server in case of any breakdown. It can be considered an updated service of Shared hosting.
Shared: As the name suggests, the website shares its resources with other websites. It is highly recommended for websites with low traffic.
VPS: VPS stands for Virtual Private Hosting Service, it breaks servers into physical parts, which are then used for each site, and files, to be stored separately.
Dedicated server: In a dedicated hosting server, you have all the resources dedicated to the you. However, the downside of this is, that you alone are responsible for handling your website resources.
WordPress hosting: One of the renowned services, WordPress hosting is specifically designed for WP-powered websites. Bluehost WordPress hosting include: managed WordPress hosting features such as unlimited storage and bandwidth, a complimentary SSL certificate, and a complimentary domain for one year. Additionally, the provider takes care of updating the WordPress Bluehost installation and its plugins automatically, providing you with a hassle-free experience and making your life easier.
Design flexibility: Bluehost provides true freedom of design to all its users. It enables you to design your website according to our preference, allowing full design flexibility.
Unlimited Websites: One of the best things if not THE BEST thing is the fact that you can create unlimited websites and let your creativity do the work, and each site has its own WordPress dashboard and can be connected to its own domain.
24/7 customer service: Another features Bluehost is wildly known for, is its robust support. For the pros, newbies and the in-betweenies, customer support team is always there to ensure that you have the best experience of web development.
It offers various plans that fit all budgets and sizes. From start-ups to successful entrepreneurs, Bluehost provides complete services to all.
How Bluehost Works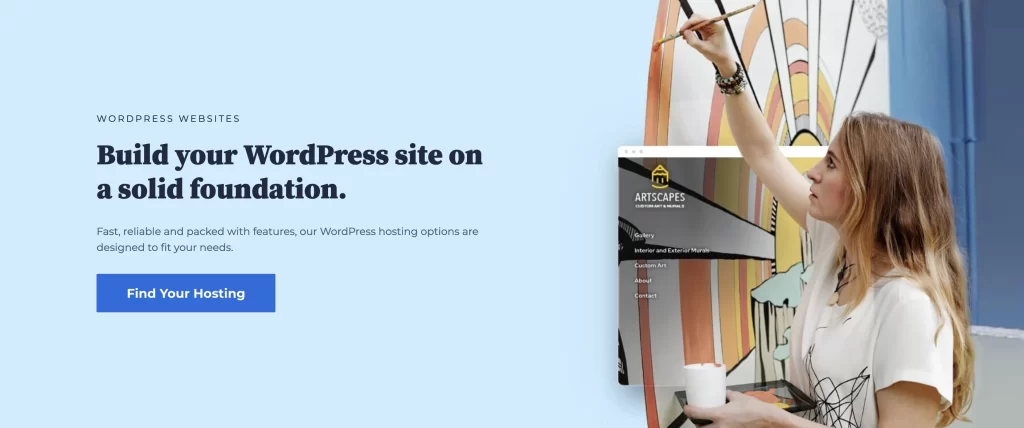 The Bluehost doesn't only perform the initiation process i.e. getting people started with the web, but it also makes sure that it creates a place, which is safe and secure for all. Along with all the hosting services mentioned above, it never refuses to go an extra mile to give their customer the best web experience. It is concerned with web civility and ensures a productive space for the old and the young.
Their web solutions are intricately crafted to suit the needs of a wide range of customers. Their add-on resources also help the users to dive deep into the web with minimum effort and gain maximum results. They also take immense pride in their 24/7 customer service. So, if you have any web-related problem, the solution is just a call away!
How to create a website with Bluehost
Creating a website using Bluehost is slightly more complicated compared to other website builders. Initially, company directs you to the hosting dashboard and prompts you to establish a new Bluehost WordPress website. Before selecting a template or making any adjustments, you will have to log into the new WordPress dashboard.
On WordPress, you can choose from more than 300 pre-installed themes to begin your site. Additionally, you have the option to apply any WordPress-compatible theme to your site, however, only the themes provided by the company are compatible with the site builder. Changing themes, later on, can be tricky, as it will require you to rebuild your site from scratch.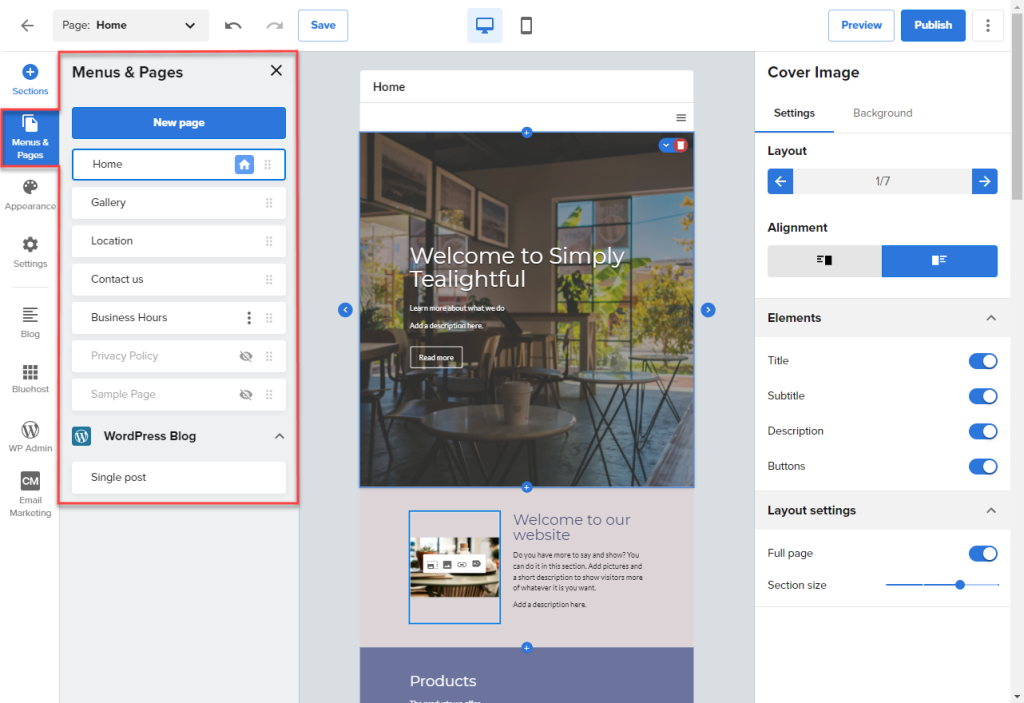 The Bluehost website builder can be accessed from within the WordPress dashboard. It offers premade page sections, which come with multiple elements such as text boxes, image containers, buttons, and more. You can choose which elements to show or hide within each section and there are several predefined layout options for each section.
This editor is more user-friendly than the standard WordPress editor, though you still have access to the WordPress interface if you prefer. The editor makes it challenging to divide your site into sections with different backgrounds and arranging content alongside each other can be difficult. That editor simplifies these essential design tasks.
It's worth noting that the site builder is not a drag-and-drop editor. Page sections are full-width by default, and it's not possible to add or rearrange individual content elements. You can edit the site's HTML code for fine-grained changes, but this option is only suitable for experienced designers.
A positive aspect of the builder is that once your site is created, you can migrate it to another host just like any other WP site.
However, if you do migrate, you will lose access to the site editor, but you will be able to keep all the page sections you have created up to that point.
In conclusion, the site editor makes designing a website in WordPress significantly simpler. However, it's still not a drag-and-drop editor and it's not as flexible as other site builders that are independent of WordPress.
Adding Multimedia to Your Bluehost Website
Using Bluehost for managing multimedia is a breeze, as it makes use of WordPress's built-in media management system, which is highly efficient.
The platform allows for the easy importation of various file types such as photos, videos, PDFs, and more from your computer. Additionally, it supports simultaneous uploads and offers the ability to organize files into folders and add descriptions to make it easier to search.
The company also provides access to a vast library of stock images to assist in website design. We found the multimedia tools to be user-friendly and efficient.
Marketing Functionality
Along with all the hosting services, Bluehost also provides Marketing services. Google ads and Binge ads are the two marketing credits included in the shared hosting package.

When we think about redeeming any kind of credit, we think about the time and the energy that'll go to waste. With Bluehost, the redemption of marketing credits is child's play.
Google Ads: One is required to log into their google ads account and spend at least $25 on a google ads campaign to redeem $100 credit.
Bing Ads: One is required to log into their Bing ads account and redeem $100 credit without any minimum spend limit on Bing ads.
First tool is the CreativeMail email marketing plugin, which is included with all of the website builders. CreativeMail enables you to collect emails, segment them into groups and build unlimited number of email campaigns completely for free.
You will also have access to WordPress's renowned blogging tools. Schedule posts, run ads and share your posts across various social media with just a few clicks. You can create posts directly within the built-in editor, meaning that you can use content section of the company for refining your content even further.
SEO Functionality & Add-Ons
Bluehost's website builder helps boost your site's SEO by making it easy to add meta titles and descriptions to your pages. You can also add alt text to every image and video you use with WordPress Media Manager. If you want all-in-one solution for SEO, check the WordPress plugin marketplace, where you can find various add-ons for improving SEO.
There is one thing that is missing from the website builder. And that is build-in traffic analytics. This isn't exactly a problem, because you can easily integrate Google Analytics or choose a plugin to add an analytics dashboard.

A handful of other add-on resources incorporated in every account enhances a customer's ability to build your online presence even further.
SEO tools are highly effective in carrying out a thorough analysis of your website and a comprehensive marketing report that includes the following factors:
Overall Score: It determines your website's overall score. The higher the score, the better.
Registrations: It registers your website to different search engines like google, yahoo, etc.
Traffic: It maintains a record of visitors to your site.
Ranking: It keeps a check on the ranking of your site on different search engines. It also familiarises you with the keywords that might help gain a higher rank.
Site Review: It reviews your site's progress periodically and reveals the areas of improvement.
Optimization: It highlights how search engine friendly your website is.
Content: It analyses your content and helps you improvise.
E-Commerce Functionality
Bluehost's website builder integrates with WooCommerce to enable you to sell an unlimited number of products, digital downloads, and subscriptions on your website.
WooCommerce is flexible solution with various built-in tools, enabling you to customize your product pages, manage shipping, inventory and marketing campaigns.
Note that many of the advanced features of WooCommerce require paid extensions. Which of these extensions are included in your builder depends on your plan.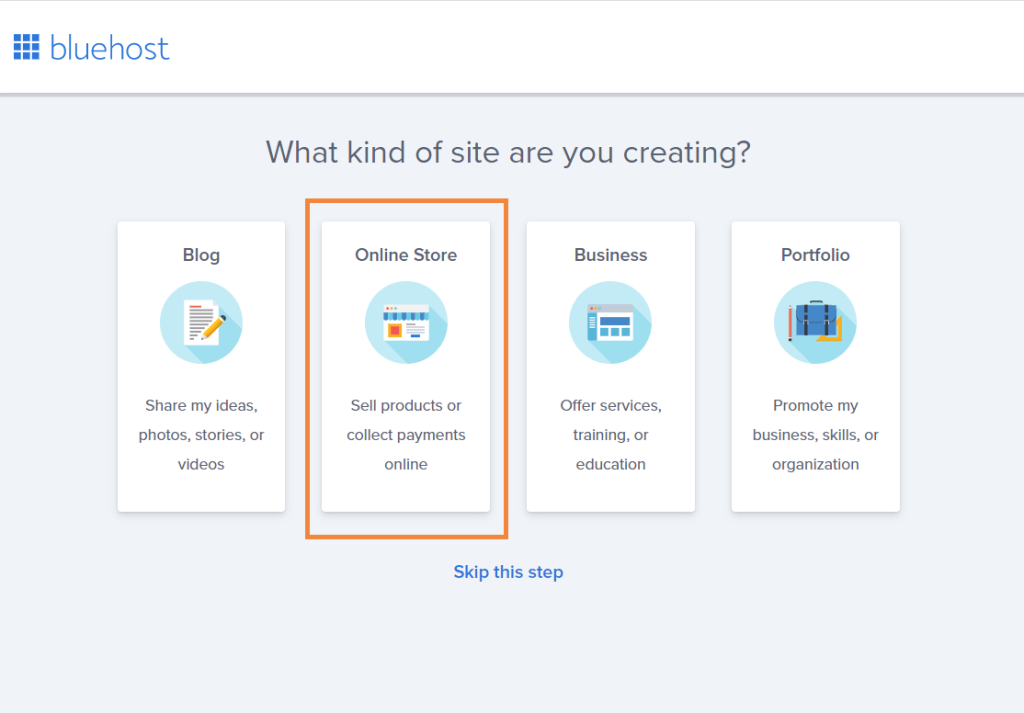 Bluehost Pricing
Very less web hosting companies can provide quality services at affordable rates. Gladly, Bluehost is one of them.
Let's understand the rates, benefits, and Bluehost customer service availability of different packages, including shared hosting, dedicated servers and plans for WordPress.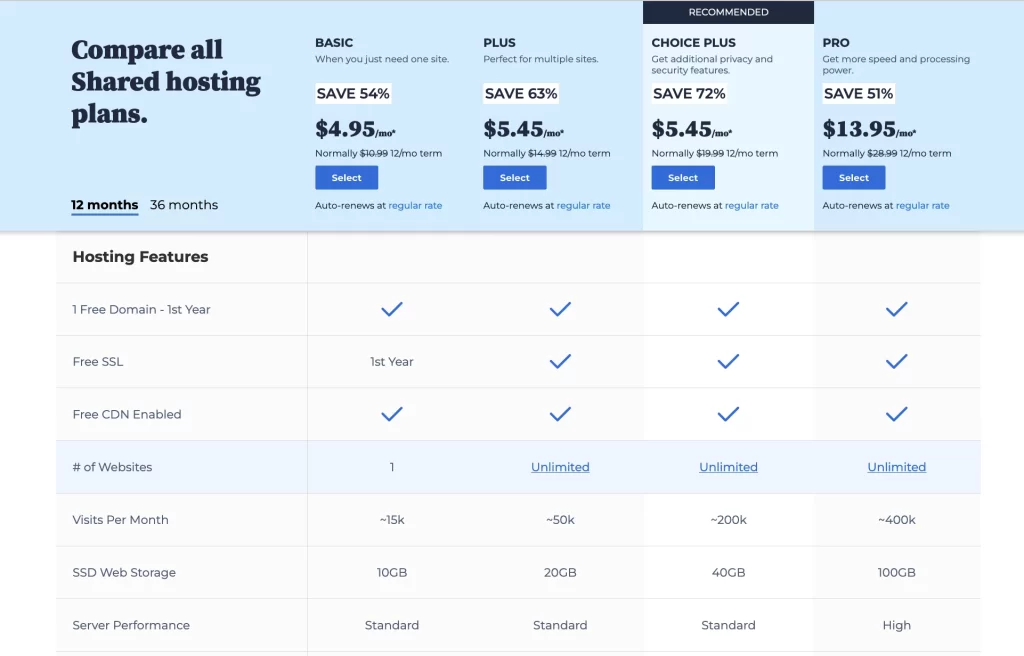 Shared hosting is one of the most economical ways to ride up the ladder of perfecting web development. The catch of the Bluehost pricing is, that it is cheaper for the 36-month plan than the 12-month plan. So the longer the period you pay for, the higher is Bluehost discount. Let's compare them.
The plan consists of 4 Bluehost price options:
Basic: $10.99/month on a 12-month plan and $9.99/m. on a 36 month plan.
Plus: $14.99/month on a 12-month plan and $13.99/m. on a 36 month plan.
Choice Plus: $19.99/month on a 12-month plan and $18.99/m. on a 36 month plan
Pro: $28.99/month on a 12-month plan and $26.99/m. on a 36 month plan
All these plans also include resource protection, domain manager, google ads, SSL certificate, and google my business, along with 24/7 customer service that is always at the user's disposal.
Bluehost VPS Hosting
VPS provides virtual hosting services at a very affordable rate. Unlike shared packages, this package only has a 36-month plan. The plan is divided into 3 pricing options.
Standard: $39.99/m. for 36 months.
Enhanced: $59.99/m. on a for 36 months.
Ultimate: $119.99/m. on a for 36 months.
All these packages also include 24/7 VPS assistance to help you choose the right plan to achieve your big plans.
Dedicated Hosting
Dedicated bluehost hosting plans aims at creating a web empire for all its users in all budgets and sizes. This service also comes with only a 36-month plan, divided into 3 pricing options:
Standard: $125.99/m. on a 3 year plan.
Enhanced: $159.99/m. on a 3 year plan.
Ultimate: $209.99/m. on a 3 year plan.
All these packages also include 24/7 dedicated to catering to all your needs.
| Pricing Plan | Cheapest Plan: Discount Price | Cheapest Plan: Regular Price | Subscription Length | Discount Savings Per Month |
| --- | --- | --- | --- | --- |
| Shared | $4.95 | $10.99 | 12 months | 54% |
| Shared WordPress | $4.95 | $10.99 | 12 months | 54% |
| WooCommerce | $9.95 | $24.95 | 12 months | 60% |
| VPS | $19.99 | $39.99 | 12 months | 50% |
| Managed WordPress (Pro) | $24.95 | $29.99 | 12 months | 21% |
| Dedicated | $79.99 | $125.99 | 12 months | 36% |
Bluehost Pros and Cons
Every web hosting company has something so great, that you'd solely hire them for that, while on the other hand, there might be a few shortcomings that you possibly can't ignore.
Let's look into some pros and cons of Bluehost.
Pros:
Fast Customer Service: Offering quick and efficient Bluehost support is the main pre-requisite of any web hosting company. Fortunately, Bluehost has quick and efficient support, that is indeed a dime a dozen.  It is available 24/7, hence one doesn't have to worry about time zones.
Pocket Friendly: The price of services is lower as compared to its competitors. The add-ons and benefits provided alongside the main service are also worth every penny. Be stress-free about hidden cost when it comes to Bluehost.
Easy to navigate: Dealing with the web itself is an incredibily confusing process, onboarding should not add to your difficulty, hence it deems very important for hosting companies to have an easy-to-navigate interface. The company is not only sought after because of its amazing features and functions, but also because it is extremely easy to use.
Cons:
Constant promotions: Constant upselling is a major turn-off for many companies and individuals. Once you've bought a plan, it constantly tries to promote its other more expensive packages which ends up annoying a lot of people.
Higher domain renewal price: Bluehost provides a free domain for a year for its first-time users. However, the renewal price of this domain after the end of the free subscription is very costly.
Bluehost Customer Service
The company offers 24/7 customer support by phone, email, and live bluehost chat. There's no section dedicated specifically to the website builder in the knowledge base. However, the resource center has several step-by-step tutorials that illustrate how to create a website using the site builder.
There is also an resource center, available for all of the customers. There you will find easy solution for the most frequent questions, even without contacting the support.
If you are in trouble using WordPress, there is plenty of resources available online.

Frequently Asked Questions
You cannot use Bluehost for free. However, they offer large discounts on their packages for the first-time users. Later, the plans can be renewed at the regular price.
Yes, Bluehost is highly recommended for beginners. It is extremely user friendly and easy to navigate. Be it beginners or professionals web developers, Bluehost works well for all.
Bluehost is often said to be the #1 web hosting provider by various websites. Its inclusivity, flexibility, and convenience are what makes it preferable to other web hosting companies.
Bluehost Alternatives