SiteGround Hosting Review: Everything You Need to Know
A feature-rich web hosting service that offers a wide range of hosting solutions, including shared hosting, cloud hosting, and WordPress hosting.
Visit SiteGround
Price
Starting at $2.99/month
SiteGround Overview
SiteGround started operating as a web hosting company in 2004, in Sofia Bulgaria, and customising its functionalities at every next step, it has successfully become the ultimate choice for over 1,000,000 domains in 2022.
It has extended its servers to the USA, Cyprus, Spain, UK, and, of course, Bulgaria with a team of over 500 employees. Moreover, it offers its web hosting services to various data centre locations worldwide.
It offers its services for Web Hosting, WordPress Hosting, WooCommerce Hosting, Cloud Hosting, Reseller Hosting. It's reliable services, fast customer support and great functionalities make Siteground one of the best choices out there.
How siteground works
When it comes to the success of a web hosting company, the best way to find the secret behind is an analysis of the main features it offers to businesses and individuals:
Siteground offer a variety of web hosting services to suit different needs, including shared hosting, cloud hosting and dedicated servers. With its upgraded control panel, Siteground have made handling things such as statistics and domain security a breeze.
Siteground offer reasonable prices and for various plans are offered a variety of features. As compared to other web hosting companies, you can consider Siteground among the best.
No matter how large your website is, how vast is the database, or how many external resources it carries, it will never take more than one second for SiteGround to load your website.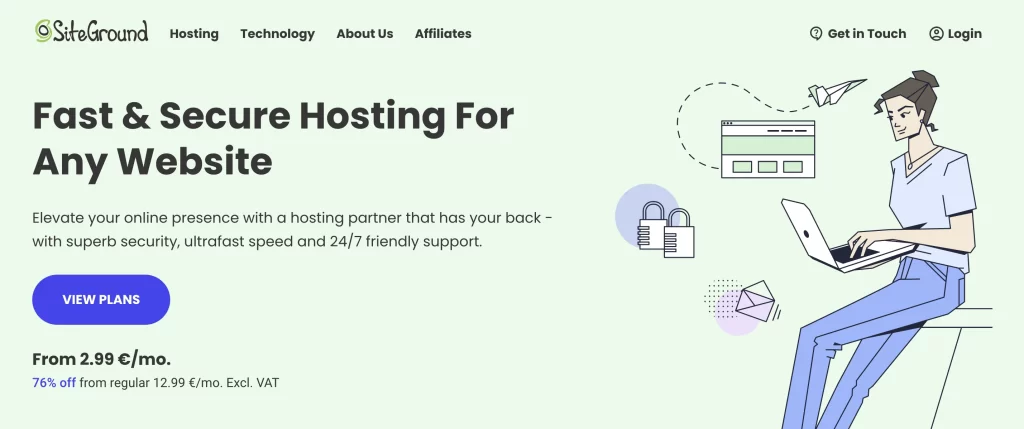 No matter if you are a developer or you do not have any coding experience – Siteground makes it easy to create a website without any previous knowledge or experience. Siteground website builder offer a variety of templates and tools to help you build reliable websites quickly and easily.
It provides you with incomparable security features to keep your websites protected such as daily backups, free SSL certificates, DDoS protection and anti-spam tools. You can also prevent unauthorized access to your account with two-factor authentication.
The thing that marks the success of SiteGround is its vigilant, helpful, and expert customer support that is always there to answer every query you have paving ease through your way to success. It also provides an extensive knowledge base and a community forum where you can get help or advice from other users.
Marketing functionality
Siteground is one of the web hosting companies that does not offer dedicated marketing functionalities. However, they do provide some features, that will help your marketing efforts.
SiteGround uses Dynamic Caching, which is actually a modified term for Server Site Caching is the key to the top speeds you get with SiteGround.
It is the optimization of the typical functionality, where your web host doesn't find the files a visitor on your website looks for again and again. Instead, it makes a copy and any time a new visitor will come for that file it will be there already.
This makes the response time incredibly fast and loading a webpage becomes a game of milliseconds for SiteGround.
Another reason behind SiteGround's high web loading speed is that it is now using the Google Cloud's infrastructure that gives them access to almost unlimited RAM and then distributes that RAM to All of its servers.
SiteGround uses a modified file format that has the Brotli compression algorithm, instead of gZip. Brotli compresses files like Javascript up to 15 percent, HTML around 20 percent, and Css up to 16 percent smaller and literally, that does a lot to squeeze your larger website and boost them with high speeds.
If you are running an e-commerce store, SiteGround could be the best web host service provider because it is using a new MySQL setup that handles simultaneous parallel requests reducing slow query speed by 10 to 20 times.
This means Your server will always remain up no matter, how many times and how many customers will opt to buy from your online stores.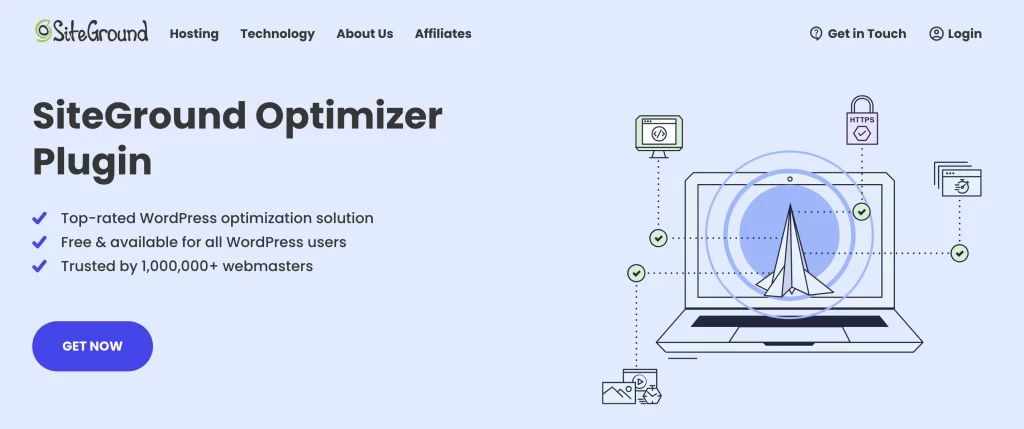 SEO functionality
SiteGround is incorporated with WordPress which offers you various SEO plugins that help you to build content that summons potential researchers and visitors to your Web page and helps you to go by the trend.
The modified version of SiteGround doesn't have a special Add-Ons option, but you can go to your main web hosting interface and can put any changes you want to your respective websites.
Customer support
Siteground's customer service is designed to provide prompt and comprehensive support, with a focus on resolving customer issues quickly and efficiently.
Known for its 24/7 Customer Service, Siteground offers support through phone, live chat and email. There are representatives available at any time, both for technical issues and billing inquires.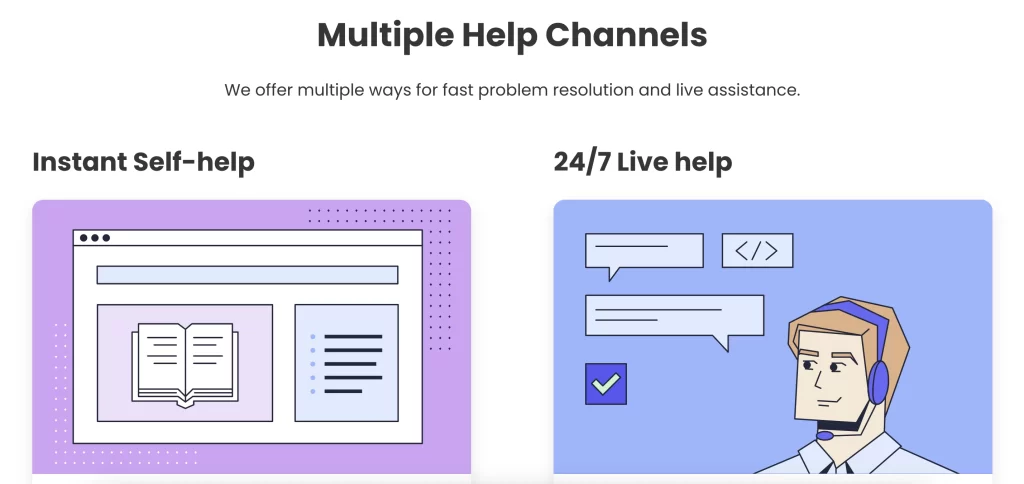 Knowledge base is one of the main sources of information for the Siteground customers. That section has tutorials, articles and FAQs to help users troubleshoot common issues and learn more about Siteground features.
Siteground also offers a ticket system that allows you to submit request through their website. The system allows you to track the progress of the ticket and to receive updates on its status.
Pricing
SiteGround offers 3 plans, featuring Web hosting, WooCommerce hosting, WordPress hosting, Reseller hosting, and Cloud hosting:
Your first payment would be offered a straight 76% percent discount
| Feature | StartUp | GrowBig | GoGeek |
| --- | --- | --- | --- |
| Starting Price/month | $1.99 | $3.99 | $5.99 |
| Renewal Price/month | $12.99 | $22.99 | $34.99 |
| Number of websites | 1 | Unlimited | Unlimited |
| SSD Storage | 10GB | 20GB | 40GB |
| Traffic | Unmetered | Unmetered | Unmetered |
| Free SSL | ✔️ | ✔️ | ✔️ |
| Free CDN | ✔️ | ✔️ | ✔️ |
| Free domain | ❌ | ❌ | ❌ |
| Daily backups | ✔️ | ✔️ | ✔️ |
| SuperCacher | ✔️ | ✔️ | ✔️ |
| Priority support | ❌ | ❌ | ✔️ |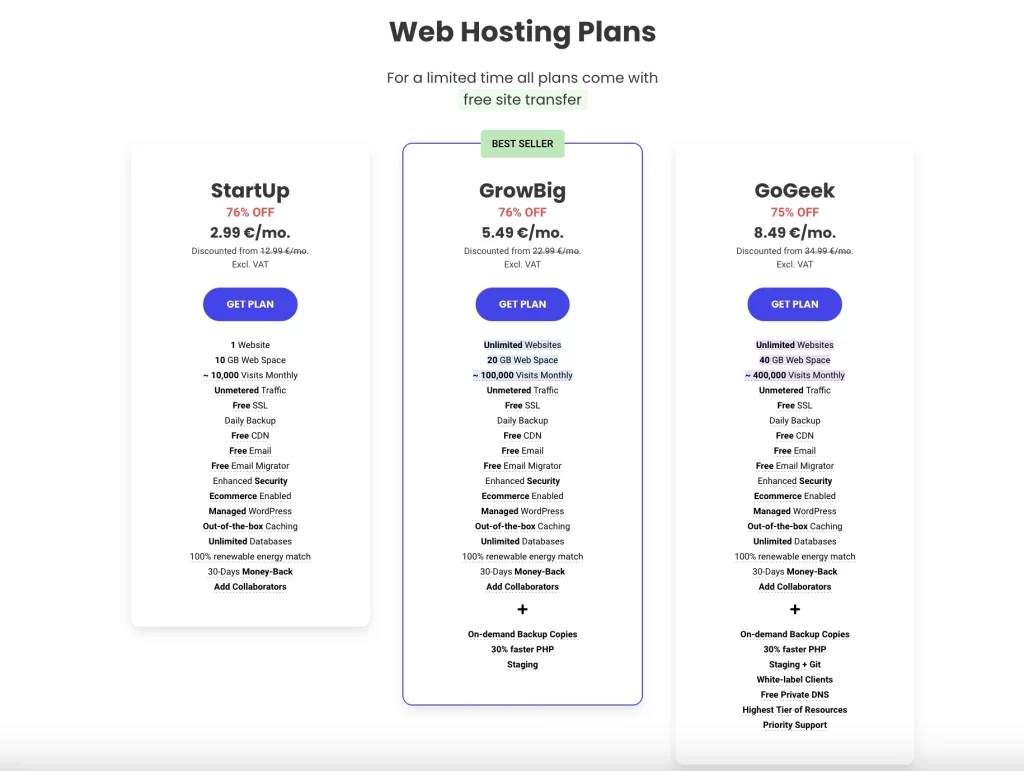 What we like about Siteground web hosting
Support available around the clock, proactive monitoring and ticket system guarantee quick response times and helpfulness.
Dynamic caching, optimized code and SSD storage ensures fast website loading speeds.
Enhanced security through unique solutions such as AI anti-bot, Web application firewall, WordPress Security plugin. Siteground constantly add new security rules to prevent emerging vulnerabilities and hack attacks.
What we didn't like about the company
Higher pricing compared to some of the other leading providers, especially for higher-end plans;
There are fewer data center locations compared to some of the other providers which can affect website loading speeds in certain regions.
Frequently Asked Questions
SiteGround Alternatives