DreamHost Review - Can You Trust Their Shared Hosting?
Official WordPress hosting partner and host over 1.5 million websites. They provide 100% in-house support available 24/7 and free website migration.
Visit DreamHost
Price
Starting at $2.95/month
Dreamhost Overview
Dream host is a company that provides web hosting services ranging from shared to cloud hosting for online businesses or people who want to build their online presence.
Dreamhost is Los Angelis based provider, founded in 1996 by Dallas Bethune, josh jones, Michael Rodriguez, and Sage Weil.
Dream host has grown to be amongst the most well-known and renowned providers since then. Over 1.5 million websites are currently hosted on their servers, including more than 750 000 WordPress installations spread out over 100 countries.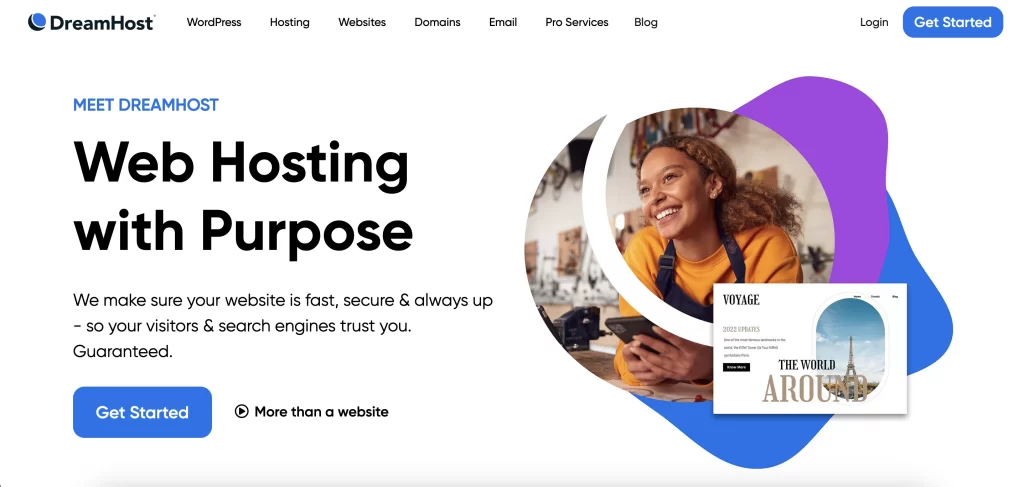 How Dreamhost works
Dreamhost serves more than 100 000 developers, bloggers, and online business owners. Their hosting plans provide a lot of features, like 1 no-cost domain registration, 1-click WordPress installation, storage, and bandwidth unlimited. There is also one of the best money-back policies out there – you receive a full 97-day refund guarantee if Dreamhost doesn't fit your needs.
Dreamhost Main Features
Dreamhost Is primarily a web hosting provider, but there are some important built-in tools and options, that can help every business owner to grow their websites even further. Here are some of the main features that Dreamhost web hosting provides to their customers:
Dreamhost Website Builder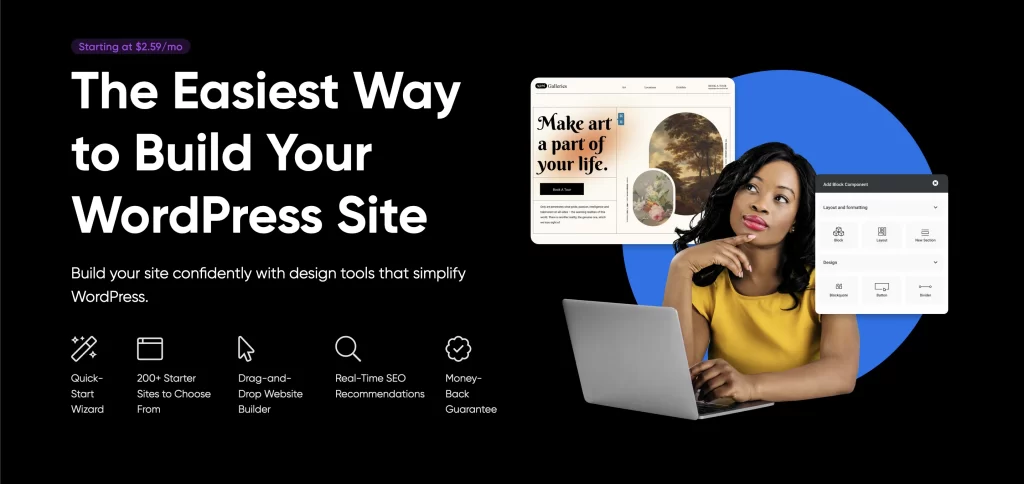 One-click WordPress installation, Sitemap generation, drag and drop interface, and customizable templates – Dreamhost has it all. Their website builder can take you further into creating and customizing your websites without any coding skills or knowledge. All of the built-in templates are mobile responsive, so you can be sure everything will be good-looking, no matter what device your visitors are using.
Also, Dreamhost Website builder has some important integrations with third-party services, such as Google Analytics and PayPal.
DreamObjects Cloud Storage
No matter how big your website is, you will always need storage for your files. Keep track of them with DreamObjects – a cloud storage feature that allows you to store everything in one place. Choose your cloud storage plan, starting at 0.95$/m for 40 GB and going up to 20TB of space.
Automated WordPress migration
Free WordPress migrations with just a few clicks and no additional fee? DreamHost Automated Migration plugin lets you do it 80% faster and with no downtime.
What you need to do is download the migration plugin, create your unique migration key from the dashboard, and go live – you're ready just like that!
Subversion – version control tool
If you are a developer or a manager of a software development team, you will definitely like Subversion. A free version control tool isn't something common for a hosting company, so something that helps you manage your source code files without restrictions is nice to see.
E-Commerce Options
Dreamhost offers user-friendly options to create and manage an online store. Product management, payment processing – you can control everything with just a few clicks.
ZenCart E-Commerce Platform
ZenCart is an open-source e-commerce platform that allows every website owner to create and manage an online store easier. ZenCart includes some useful tools for managing and adding products, updating prices, and tracking inventory. It also has built-in SEO tools to help you rank better.
Chartbeat Analytics
Keep a close eye on your website performance with Chartbeat – an analytics platform that allows you to understand your traffic, engagement, and others. Chartbeat provides real-time data, so you can see how visitors are interacting with your website. Other features of the platform include engagement metrics, such as bounce rate, time spent on the page, and audience segmentation.
Customer service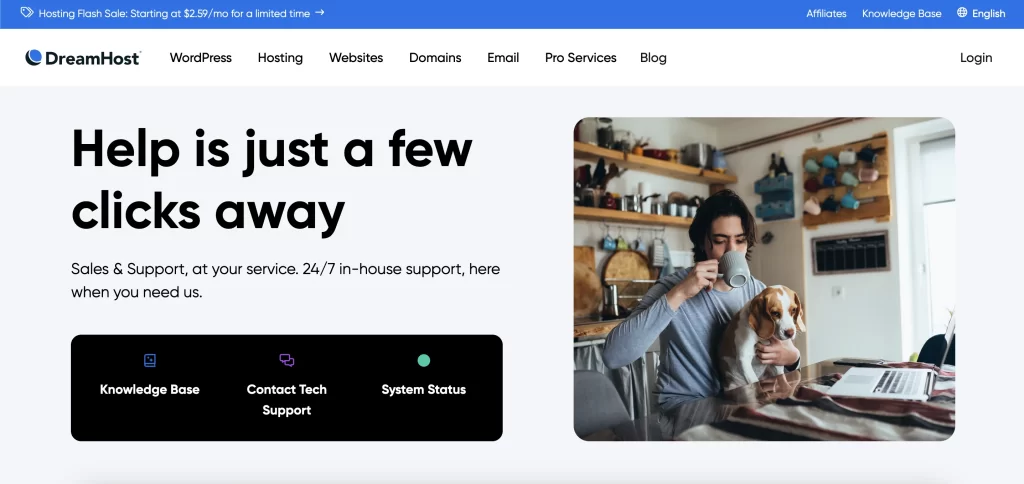 With Dreamhost help is just a few clicks away. The company offers email and ticket-based support, which is available 24/7. There is also an extensive knowledge base available for all of the customers, who prefer to check for a solution by themselves.
Even if their live chat and email representatives are useful and always ready to help, some people will find the lack of a telephone number uncomfortable.
Dreamhost Pricing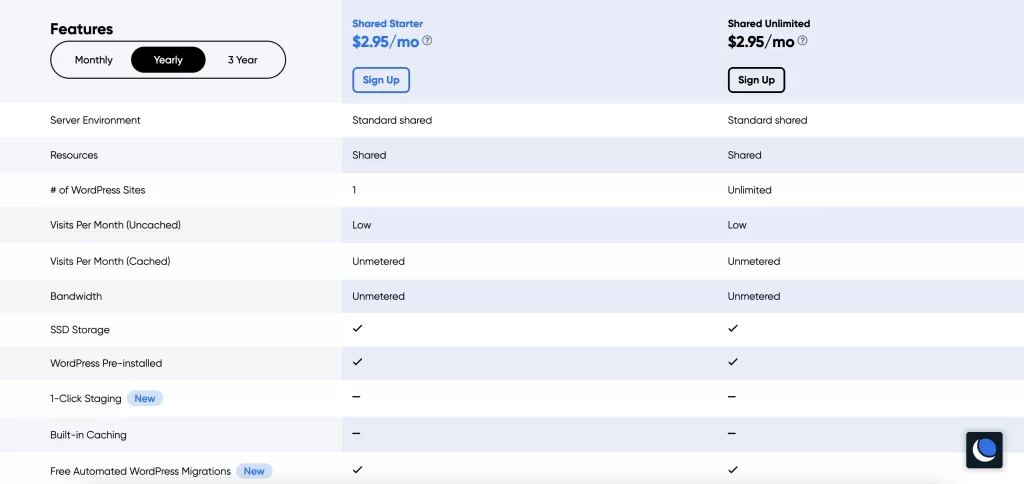 Dreamhost offers a variety of hosting plans, depending on the type of service you need. No matter if you want your portfolio website hosted or you have a big e-commerce platform, everything is covered by the company:
| Pricing Plan | Cheapest Plan: Discount Price | Cheapest Plan: Regular Price | Subscription Length | Discount Savings Per Month |
| --- | --- | --- | --- | --- |
| WordPress Hosting | $2.95 | $6.99 | 12 months | 63% |
| Managed WordPress hosting | $16.95 | $19.99 | 12 months | 29% |
| WooCommerce hosting | $16.95 | $19.99 | 12 months | 29% |
| Shared | $2.59 | $5,99 | 12 months | 68% |
| VPS | $10.00 | $12.99 | 12 months | 50% |
| Dedicated | $149.99 | —– | 12 months | —– |
| Cloud storage | $0.95/40 GB | —– | 12 months | —– |
Pros and Cons of Dreamhost
Overall, Dreamhost has a lot of features to offer, but it may not be the best option for everyone. Some of the advanced features are not available on all of the plans, so you need to consider what are your specific needs, before choosing one of the present offers.
Pros:
Many useful features like cloud storage and website builder;
One-click free migration with no additional fee;
97-day money-back guarantee;
Plenty of hosting plans available;
Free SSL certificate included with all of the plans;
Beginner-friendly control panel, that is easy to navigate.
Cons:
Not all features are available with all plans;
Only live chat support and ticket system are available;
Higher prices for lower commitment periods.
Dreamhost is one of the leading web hosting providers worldwide.  Easy-to-use website builder, generous money-back policy, and plenty of features available are some of the reasons why.
If you want a reliable provider with 100% guaranteed uptime and an excellent support team, you should consider Dreamhost. Even if you currently are using another company's services – the one-click migration tool will make things happen with just a few clicks.
Frequently Asked Questions
DreamHost Alternatives